A staggering 85% of couples opt for a natural setting when tying the knot. The availability of wedding venues nestled in nature's embrace has surged in recent years, offering a plethora of options for celebrating love amidst the great outdoors. One prevailing trend in such natural wedding celebrations is the use of decor crafted from materials like wicker, wood, bamboo, or jute. If this resonates with your wedding vision, you'll adore the beautifully natural packaging options available for your wedding photography.
Wooden Photo Box
The first option on the list is a wooden box with a top made of acrylic, allowing a glimpse of the carefully selected highlights from your wedding. These photos can be rotated and displayed in photo frames, ensuring they never lose their charm. The box also features a designated space to store a wooden USB drive, which contains the complete digital version of your wedding album, viewable on your TV.
Wooden Box with Your Wedding Album
The second choice is a wooden box engraved with your wedding logo, safeguarding your precious wedding photo album. These albums are crafted by hand, ensuring each one is unique. You have the freedom to choose the materials and colors, such as linen, faux leather, or wood. The box includes a compartment to store your USB drive—a wooden pendrive for your computer or TV, containing both photos and videos from your wedding.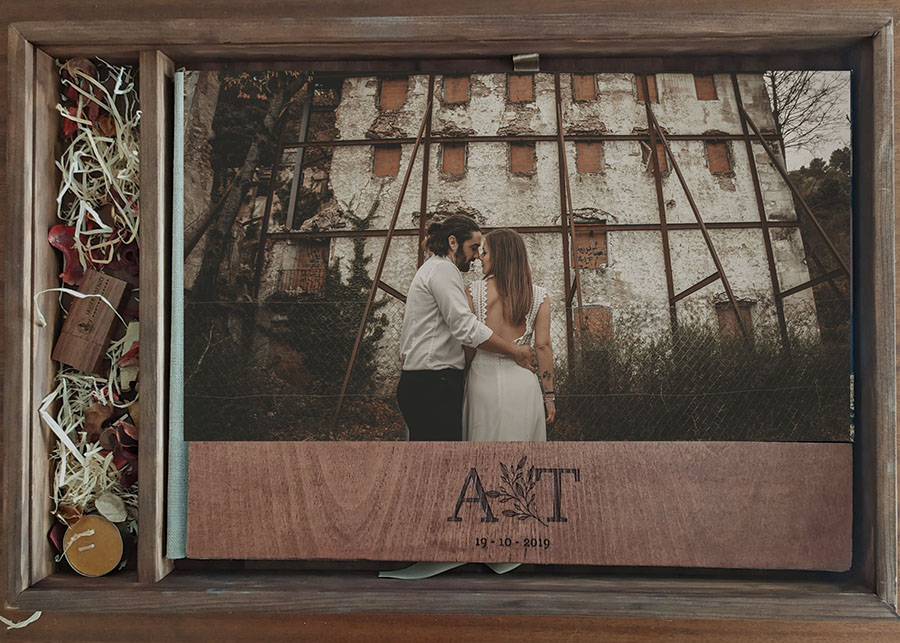 Wooden Wedding Album
See it, touch it, and even smell it!
Moreover, the packaging for these natural wedding photography collections offers an extra sensory element: fragrance. If you look at the left side of the image, you'll notice that the box contains a mix of decorative dried flowers that emit a delightful aroma—vanilla, cinnamon, and coffee.
If you're embracing the natural theme, design your album with materials that resonate with your wedding's essence. Pay close attention to every detail to ensure that the style of your wedding remains in perfect harmony.
These wedding photography packages go beyond the visual aspect, allowing you to see, touch, and even smell your cherished memories. Crafted with top-quality materials, they are built to last a lifetime. Make it your top choice for lasting memories that capture the essence of your special day.